8core Multi Tube Armoured Duct & Aerial GYXTW hdpe pipe for fiber optic cable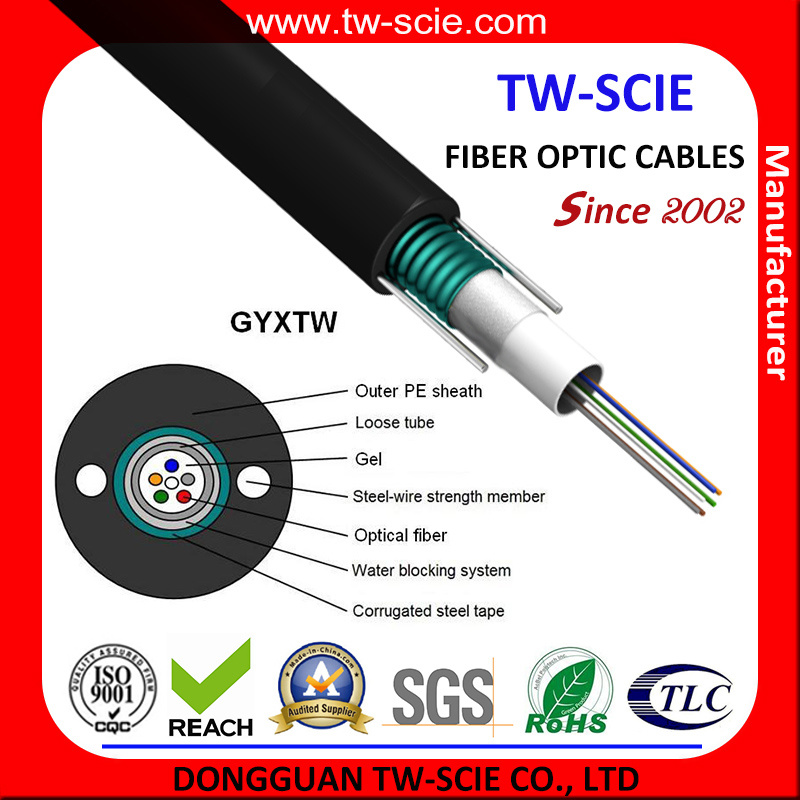 Product Description
Tube bundle is made by one micro duct or more than one micro duct grouped according to a certain arrangement order with outer sheathing layer. It can hold more conduits in the limited space.
The structure of HDPE tube bundle has some characteristics as follows:
1. The technical specification of micro ducts grouped into tube bundle fully comply with the above-mentioned specification of micro duct;
2. Through the color, arrangement definition, ie, the position of each micro duct in the tube bundle, the construction becomes convenient so as to effectively avoid the misconnect of micro ducts;
3. Inner micro ducts and the outer sheathing layer can be relatively separated through a special manufacturing technology and product formulation so as to convenient for construction and the connection of inner micro ducts;
4. Many tube bundles placed into the same one trench can be distinct through the different color of outer sheathing layer of tube bundle or different strips on the outer sheathing layer of tube bundle;
5. The surface of outer sheathing layer of tube bundle is smooth without defects, such as visible holes or scars.
Product Description of optic cable prices
1. Suitable for ducts & aerial.
2. Long distance communication system.
3. Local area network system.
4. Subsriber network
optic cable prices GYXTW
1. Single jelly compound filled loose tube containing up to 24 fibers
2. Waterproof tape between the steel tape and loose tube with jelly compound.
3. Duble-sided PE corrugated steel tape armored.
4. Parallel double steel wire as strength member.
5. Compact structure, light weight, steel tape armored excellent water-proof layer, good moisture.
Packaging & Shipping
Internetional fiber optic cable prices exporting experiences more than 10 years. If you have any questions about packing or shipping, we can offer you our best services. Inculding firming the packing or arranging the shipping with shipping company.
Company Information
Dong Guan Tw-Scie Co., Ltd. is a high-tech enterprise group in China devoted to communications undertakings with our own impoters and exporters rights. Since its founding, high quality products an strong co-operations have enabled the enterprise to stably and rapidly grow into a specialized communication Manufacturer supplier and engineering service provider the most complete product line-up and specifications in the fiber and cable industry of China.

The enterprise is possessed of a passel of faithful, intelligent, conscientious talents. While bending ourselves to following with the worldwide advanced development and application, we build up cooperation ties with many scientific research academy.

The main products of our enterprise are:
optic cable, optical cable, Optical media converter, optical transceiver, optical coupler, optical modem, optical connector, optical distribution frame.

All of the products are widely used in telecom, electric power, railway and other related department, exporting France, India, Singapore, Malaysia.

optic cable is mostly competitive, contact us now!



Optic Cable Technical data:

Fiber Num.

Outer diameter (mm)

Weight (kg/km)

Min.Bending radius(mm)

Tension (N)

Crash loading (N/100mm)

Static

Dynamic

Short term

Long term

Short term

Long term

2-12

8.9

90

10 times O.D.

20 times O.D.

1500

600

1000

300

14-24

10.2

110